For pin-level analysis, 23.3% were infected in the control group, while none (0%) were infected in the PREVENTOGEN group 
For patient-level analysis, 33.3% of patients in the control group experienced infection, while none of the patients in the PREVENTOGEN group experienced infection (0%)
The application of the PREVENTOGEN liquid polymer has shown its effectiveness in dramatically reducing the rate of pin-tract infections related to external fixation procedure
St. Louis, MO, October 13, 2020 – PREVENTOGEN today announced new prospective, randomized clinical data accepted by peer-review in the Journal of Clinical Microbiology and Infectious Diseases.
This IRB approved randomized prospective study included 12 patients who received external fixation following deformity correction. Patients received 10 pins each for a total of 120 pins (60 pins per group). Six patients received standard pin-tract care, while 6 patients received identical pin-tract care with the addition of the microbicidal liquid polymer applied at the conclusion of each care regimen. Results were analyzed on a per patient and per pin basis.
RESULTS
Patient and pin-level results of the study: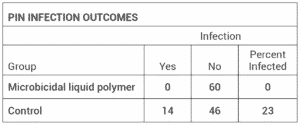 Based on a p-value of <0.0001, there is strong evidence to suggest there is a significant association between group and pin infection outcomes. 
"The data sets announced today are remarkable. With these new data, we are continuing to build evidence of Preventogen's potential as a new class of transformative therapeutic to prevent infection in areas with high unmet clinical need, such as external fixation procedures," said Brad Chartrand, CEO of Preventogen.
"I'm very excited that the results of our IRB approved study mirrored the results of our initial retrospective study, which shows great promise in advancing this area of care for surgical patients requiring pins. In my many years of caring for patients requiring deformity correction and traumatic provisional fixation, I have seen how post-surgical infections can adversely affect patient's lives in very significant ways. I'm encouraged with the progress we are making to find better infection prevention solutions for these patients," said Dr. Shital Pema, Principal Investigator of the Clinical Study. 
About PREVENTOGEN
Preventogen is a non-antibiotic, microbicidal liquid polymer that forms a protective film barrier over the skin. The microbicidal agent in Preventogen kills microbes (bacteria, fungi and viruses) on contact, and then forms a flexible, organic, odorless and biodegradable barrier that protects the wound from harmful elements, such as water, dirt and germs. This flexible protective barrier also prevents oxygen entering the wound, lowering the pH and creating an optimal healing environment.